"barfuss" is not only a German pun (barfuss is the German word for barefoot); it's also the greatest and most special bar in Rostock where you can go without shoes.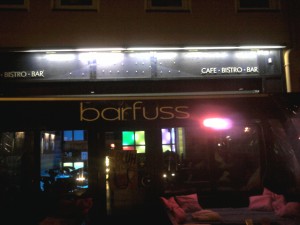 If you'd like to spend your evening in a great atmosphere, meet friends, and have some drinks and music without going to a club, you should definitely visit this bar.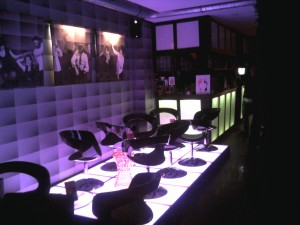 The barfuss is at Margaretenstraße No. 41. To get there, take trams No. 1, 4 or 5 in direction to "Mecklenburger Allee" or "Rügener Straße" if you come from any stop in between the "Steintor" and the "Doberaner Platz" and get off at the "Volkstheater" stop, then walk up the street "Doberaner Straße" and cross it at the first traffic lights you'll see (it's not far, stop is next to traffic lights). Go straight on and follow Margaretenstraße up to No. 41 where you can see the barfuss on the right. You can't miss it because, especially in summer, there are also huge sofas in front of the bar, and, by the way, you should definitely sit outside in summer. It's open every day from 11 a.m. until the last person has ordered so you can have breakfast there or enjoy drinks in the evening – perhaps even both.
 The barfuss offers over 50 tasty cocktails which cost about five euros. Every day from 7 – 9 p.m. there is a "Happy Hour" in which every cocktail only costs 3.50 €. You can easily find what you like because they are arranged in categories. I really like things like "Strawberry Colada" and "Strawberry Caipirinha" because they are made with real fruit purée – absolutely great. In the Strawberry Caipirinha the purée is particularly great because normally I don't like the Cachaça in Caipirinhas, but with strawberry purée it definitely hits the right spot. Don't like cocktails? No problem! The barfuss also offers lots of other drinks like beer, wine, tea, hot chocolate, very delicious coffees and soft drinks. If you're hungry, you can also order snacks and finger food. You'll also see a page with crazy food like ants, scorpions and locusts. That's for those of you who are looking for a new experience.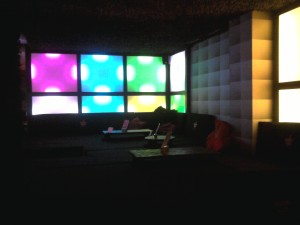 But why choose the barfuss and not another bar in Rostock? It's the cool design and the whole idea of the barfuss that makes it so extraordinary. You have to take off your shoes because the whole bar consists of huge, soft sofas with big pillows; – therefore, it's very comfortable, and you should wear loose clothes, otherwise you might look like this. Most of the sofas with tables offer room for up to ten people. On the walls a lightshow flickers which creates a bit of a club atmosphere. The design is so special that you should perhaps have a look at it before you come to the BARfuss, and by the way you should choose and reserve your favourite seat because so many people go there.
All in all, this bar is a fantastic location to meet friends or even go for a date if you like a more public location with a relaxed and chic atmosphere, drinks and music. By the way, there is always music, sometimes even played by a DJ, exposing you to the newest hits. Of course, there are German service people, but some of them are students, most of them speak English anyway, so a lack of German won't be a problem.
So, take clean socks, go to the BARfuss and become a part of this wonderful atmosphere ;).