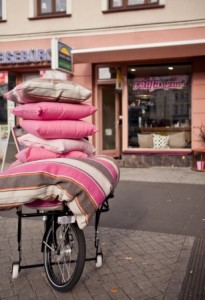 When Jan Kleinschmidt opened his first ronja espresso® Bar at the Margaretenplatz in the center of Rostock´s student area, his aim was to revolutionize Rostock´s coffee culture, which had mostly been defined by cheap, ordinary dripping coffee for decades. Hand roasted, flavorful espresso, a warm atmosphere, retro GDR furnishing and delicate coffee odors – that was the concept with which he wanted to convert Rostock´s coffee fans to connoisseurs.
Eight years have passed and the "Ronja´s" is now a well-known name that stands for quality and innovation and Ronja´s homemade espresso-blends have found their way into many Cafés, Bars, and especially into numerous private households in Rostock.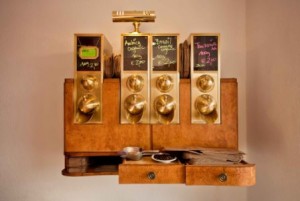 As a result of the great success, a second store has just recently opened at the Doberaner Platz that offers a catchy range of "To-go"- and "To-stay"-products ("coffee to stay" is a German pseudo-anglicism that is used to point out to the opportunity of drinking the coffee INSIDE the shop) , including hot and cold drinks, coffee and espresso beans, handcrafted chocolates, Italian candy and a nice selection of fresh, delicious pastries.
So, if you want to experience and become part of the new developing coffee culture in Rostock, if you enjoy having a chat in a relaxed atmosphere while watching the crowds passing by, if you´re looking for extraordinary flavors and unique coffee creations: go to Ronja´s!