If you get tired of having toast and coffee at your hostel or wherever it is you´re staying, there´s a great Café I would like to recommend to you. Café Lotte!
For just as little as 10€ you get a breakfast for two with everything you need– café au lait, breadrolls, a great choice of cheese, ham, sour cream, egg-salad, jam, butter, lettuce and tomatoes. Actually, it´s so an amount that my boyfriend and I couldn´t even finish it all up. And if you are not the "breakfast for two"-type you can create your own breakfast as well ( for example: cereals, croissant and jam, scrambled eggs. It depends on what you order, but it could be more expensive) But that´s not all this Café has to offer– every day they offer a different lunch special, mostly for less than 6€- for example soups, stews, salads or chili con carne.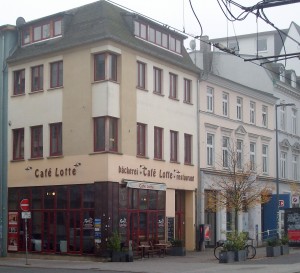 If you have a sweet tooth like I do then you should go there for a nice cup of coffee and a lovely piece of tart or cake– you won´t be disappointed! I love the tart with the biscuit base and the raspberry-chocolate topping– just delicious! I go there regularly for a talk with my friends– the staff is always nice, the atmosphere is great, and if you´re sitting on the second floor you can see the world passing by…
How to get there: Just take tram line 1,3,4,5 or 6 and get off at "Doberaner Platz". If you look towards platform D you can´t miss it.
Opening hours: From 7am to 8pm during the week. From 8am on Sat,and 9 am on Sundays — great opening hours for early birds.
By the way, it is very close to the "Kröpeliner Str." – THE shopping area inRostock. So you can start your day with a lovely breakfast and then head to the shops or have a great piece of cake after your trip.
Enjoy your stay and don´t forget to spoil yourself!