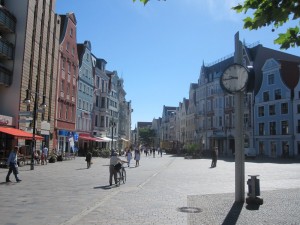 The "Kröpeliner Straße" is located in the center of Rostock. It's the main shopping mile and the start and endpoints are the "Neuer Markt" and the "Kröpeliner Tor". 
You'll find lots of shops, bakeries, cafés, smaller restaurants and of course the usual fast food facilities. Along the street is the main building of our University, a fountain the so called "Brunnen der Lebensfreude" and lot's of typical historical aristocratic buildings. All together there are enough things to see for a nice afternoon or evening.
You may start your short trip at the "Neuer Markt" take a look at the city hall and then the very impressive "Marienkirche", which you can't miss. After that you might go in the actual "Kröpeliner Straße" towards the "Universitätsplatz" and from there you will see the "Kröpeliner Tor". If you have passed it you can visit the park on the left-hand side , go shopping in the "KTC" on the right-hand side or have a nice coffee in one of the cafés.