You don´t like salt water?
The beach is too crowded for you today?
You don't like the chlorine in the water of the Neptunschwimmhalle?
Well – I´m sorry –  then you cannot swim at all. Have fun sweating 😉
…JUST KIDDING!
There is still a great opportunity to cool you down!
The Flussbad of Rostock is looking forward to seeing you.
Separated basins for non-swimmers and swimmers, basins for teams who want to play water ball, and boats guarantee a lot of fun and a carefree and moist day. A rescue guard provides additional safety. Several fields for ballgames are built up as naturally as showers and playgrounds for little children. The swimming bath can be visited from 11 a.m. – 7 p.m. on weekends and from 2 p.m. – 7 p.m. at workdays. And one thing that is even better than the beach in Warnemünde: if you don´t like to stay all day at the beach or don´t have loose change for the shops: From the Flussbad it takes just 10 minutes to go to the inner city of Rostock!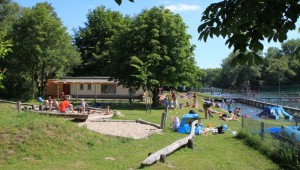 Thanks to André Axmann for the permission to use his fotos from his website: http://reutershagen.de
Here all information in short:
Fluss- und Sonnenbad Rostock
Tel: +49 (0) 163 13 13 720
Water temperature (14th June 2011): 22°C
Opening hours
May – September every day from 11 a.m. to 7 p.m. (schooldays 2 p.m. to 7 p.m.)
Attention! The opening hours can vary due to bad weather!!
Have a look into a local newspaper and call for further information!
Entrance fee
Day ticket:
Adults 3 €
Children / teenager (up to 14 years) 1,50 €
Students, pupils, severely handicapped persons, trainees 2,00 €
Groups of 10 people or more: children 1 €, adults 2€
Families (2 adults and 2 children) 7,50 €
How to get there:
You can take two bus lines to the stop called "Flussbad"
Bus 22 (from Rostock Hauptbahnhof only 8 minutes; Monday to Friday)
Bus 23 (from Rostock Hauptbahnhof only 8 minutes; Saturday and Sunday)