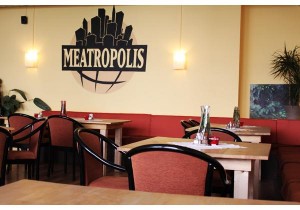 I guess you all know this scenario: after a long day of shopping or university, you are longing for a great meal and something to drink. The question is: where to go? If you are very hungry and need the challenge, then check out "Meatropolis" for XXL food and drinks. It's centrally located in the KTV and if you want to visit it for the first time, it could be a bit difficult to find. Search for the cow and you'll see it immediately. Because of its assessable size the atmosphere is very comfortable.
It's also a great place to go if you want to have some fun.
As you can see on the photos (taken from gastroblick.de with the permission of the staff), the restaurant offers some nice tables and the friendly staff will be right there for you.
Staff interview:
Introduce yourself and your business to our readers!
We are one of the most popular XXL restaurants in Rostock with the biggest burgers. All people – young and old, male and female – are welcome to experience XXL food. It's often very entertaining (not only for us as staff, but also for our visitors) to watch people eating their burgers or Schnitzel.
Why should people choose your place? What are your special attributes?
We offer Schnitzel and burger in big sizes, but also in normal ones, so everyone is able to eat here – not only those people who want to challenge each other. You are able to order a gratin or salad, too. If you manage to eat our Meatropolis burger in XXL, you'll eat for free and get a 50 € coupon. How does that sound?
What is the best time to come to this location?
We are open from 4 pm to 10 pm every day, so it's up to you. Most people visit the Meatropolis between 7 and 9 pm.
What would you recommend to order? What are your specialties?
Most people love to eat our burgers. Most of them are male and younger. The older ones like to eat Schnitzel, but it's different from person to person.
On Sundays we offer a student discount. You just have to bring your student ID with you – even if you are not studying in Rostock.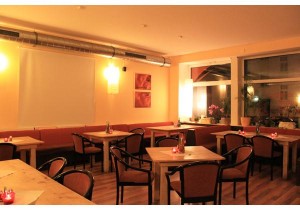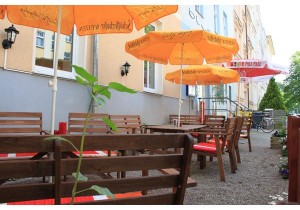 Customer interview:
How did you find out about this place?
My boyfriend wanted to try out XXL food and a friend of us told us about the Meatropolis, so we went there and enjoyed it.
Have you been here before? – How regularly do you visit this place?
I have been here two times until now, but I really want to visit this restaurant again from time to time.
What did you order?
I have ordered a Schnitzel "Hamburger Art" in L.
Easiness of finding this place?
★★★☆☆
Good location for future plans?
★★★★☆
Quality and Friendliness of staff?
★★★★★
Cost/Performance- Ratio?
★★★★★
Comfortable ambience?
★★★★★
Variety of Products?
★★★★☆
Easiness of getting a table?
★★★★☆
Something you want to add?
I love the Meatropolis because of the delicious food and the price you have to pay for it. It's always worth a visit, even if you don't want to eat the XXL stuff and only enjoy a gratin or salad.
Overall Score:
★★★★★