Bad Doberan is a small lovely town that lies 15 kilometres to the west of Rostock and 6 kilometres to the Baltic Sea Coast. With its charming historic city centre, Bad Doberan offers you a nice possibility to discover North-German architecture. The historic city centre with its small cafes, gifts, ceramics and arts are suited for a nice walk.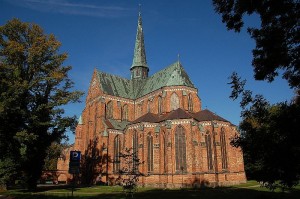 Besides the historic city centre with its small shops and cafes, Bad Doberan is famous for its "Münster", a churc
h from the mediaeval times. With its nearby parking area it is a good starting point to experience some of the few but interesting sights like the "Bädermuseum" or the "Klosterhaus". After you visit these sights you probably spend some time in a nice café to t
aste famous German cakes and coffee. Another culinary tip is the self-made ice cream from "Möckel", an ice cream parlour that you will also find in the city centre. To conclude the day you maybe visit the"Kamp-Theater", a small charming cinema where you can watch the latest movie in German. Another possibility to end the day is to make a trip to Kühlungsborn with the famous light railway  "Molli".
Departure times of the Molli in summer

8:35 am to 6:40 pm, leaves every hour from Bad Doberan central station
written by Sandra Stüwe